Oh, but how I remember. I wanted chevron everything. In navy, sky blue, orange, and grey. It's a nice color palette and with bright-white baby furniture, it made for an adorable nursery that both of my, now 6 and (almost!) 4 year old, boys loved as babies. And yes, you're welcome to borrow it, Mom who is planning her nursery and reading this article right now. Odds are though, if you've made it to baby bedding, you might at least have an idea of what you're looking for. And here's where I need you to take a big, deep breath, because I'm about to tell you a mom truth that is going to come as either a relief or a shock, and maybe a little of both.
What Bedding Do You Need For a Crib?
Here we go. Assuming you already have a crib and a firm crib mattress, you need exactly one thing for safe crib bedding. A tightly fitted, crib mattress sheet. Yes, I repeat, mattress with fitted sheet. Tightly fitted sheet. Yep, that's really it. The crib should be free of all frills and fluff. No hand-stitched quilt from your Grandmother, no baby blankets knitted by your bestie, actually no covers or blankets of any kind. No joke. Also, no pillows, no bumper pad, no bedding set, no strings, no lace, no tassels, no toys, no lovies, no nothing. No kidding. A crib skirt is an option if you're thinking simply of decor but it has to be positioned on the mattress supports and you have to ensure that it hangs down away from the mattress with no corners bunched up into baby's sleep space.
Why Is Crib Bedding Unsafe?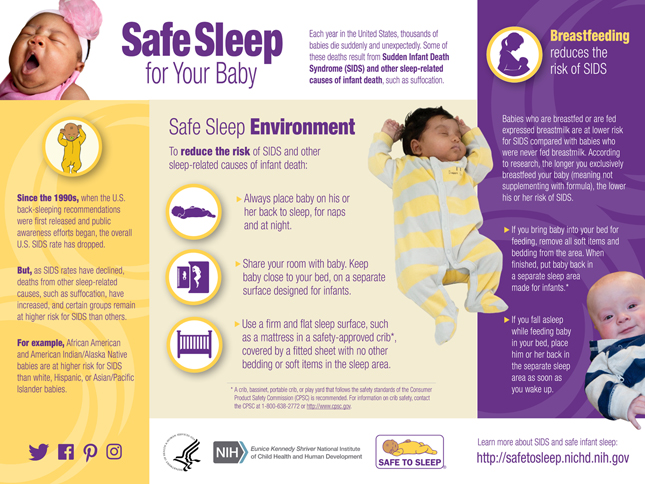 Of course, when you think of bedtime for baby, you think comfort. You think of snuggling them up sweetly so they can drift off to dream, cozy and warm and happy. The missing word here is safely. Though it's a difficult topic to even consider, the National Institutes of Health report that many people still use inappropriate bedding that may increase the risk of SIDS and other sleep-related deaths including accidental suffocation and strangulation. The most recent estimates from the American Association of Pediatrics are that 3500 infants die annually from these incidents. Since SIDS is by definition a mystery syndrome, there's no way to know for sure what causes it. What we do know is that a baby put to sleep in footie pajamas for warmth, if needed, on a standard sized crib mattress with a tightly-fitted standard size sheet is a baby who is sleeping as safely as possible. And knowing that makes it an easy choice to keep baby sleeping safe and sound.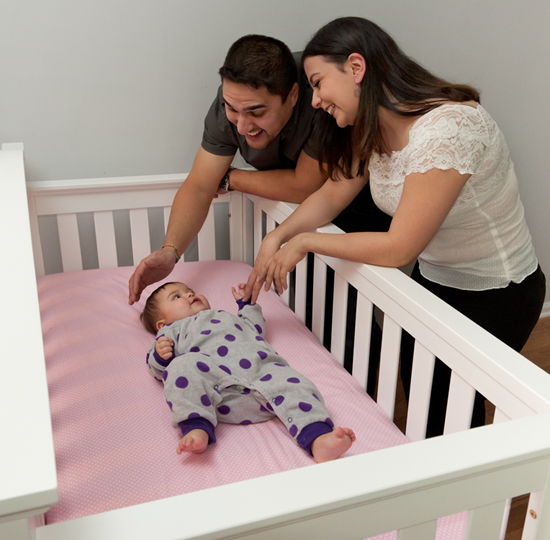 How Do I Choose a Crib Sheet?
You want to choose a crib sheet that will fit your crib mattress snugly. Shop for sheets that match your mattress. Many mattress manufacturers sell crib bedding that fit their mattresses. Also, it's worth noting that if you have a bassinet or play yard style crib, you may be able to purchase specific sheets fitted to the model of your baby crib. If this is an option, it is the safest choice you can make. Additionally, many baby brands make sheets that fit all standard mattresses.
What Size Crib Sheet Do I Need?
The sheet shouldn't be in any way loose or moveable and it shouldn't gather or bunch, but should lie flat and taught across the mattress. It seems like a lot but baby crib mattresses have standardized dimensions by federal regulation. It's 27 1/4 inches wide by 51 5/8 inches long and no more than 6 inches high, if you're curious. This is actually great news for parents because it means that finding crib bedding to fit your mattress should be reasonably easy.
What Shouldn't Go In a Crib?
Remember that list above? No crib bumper, no blankets, no nada? Nothing in the crib? It wasn't an exaggeration. In fact, it's so important that it bears repeating. Really and truly, nothing, absolutely nothing should go in the crib with baby. The concern is that babies who go to sleep in a crib full of pillows and blankets could accidentally suffocate from lack of fresh, breathable air if they get unintentionally covered up or caught beneath something. This is why the official recommendation for a firm mattress covered by a tightly-fitted crib sheet.
What Should Parents Do to Make a Crib Safe?
The recommendations in the infographic are from the NIH Safe to Sleep Campaign, formerly called the Back to Sleep Campaign. Visit the NIH website for all the details about the Safe to Sleep Campaign and for a tour of their Safe to Sleep Interactive Room. It's an online, virtual safe sleep space you can explore to help you understand all about sleep safety for baby. You'll find tips on everything you need to know to keep baby sleeping safe and sound.